The kestrel
The common kestrel is part of the Falconidae family and more specifically that of diurnal raptors. Found throughout Eurasia and much of northern Africa, it is between 32 and 35 centimeters in length, and between 68 and 78 centimeters in wingspan. Its plumage is characterized by a red back with brown spots, however with differences between males and females. Its narrow wings are brown at their tips. Her belly, on the other hand, is lighter with darker stripes and spots. Its song is rather rare, however we observe a great variety of tones.
The common kestrel is a sedentary bird that adapts to different types of environments, mainly feeding on small mammals such as rodents. To catch its prey, it moves in a hovering flight called "flight in the Holy Spirit" and lets itself slide towards its prey.
Unfortunately, this species is threatened by chemicals used in agriculture which impoverish the land leading to a decrease in the quality and quantity of food. Despite its status as a "fully protected species", the population of kestrels in France declined by 20% between 2001 and 2018. Without a change in the land use systems, the demography of the species will continue to decline.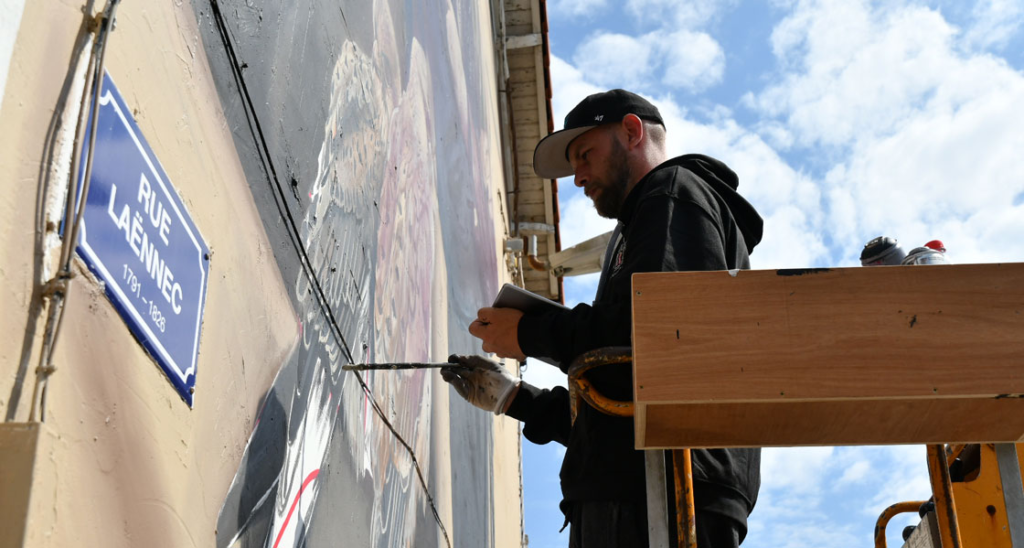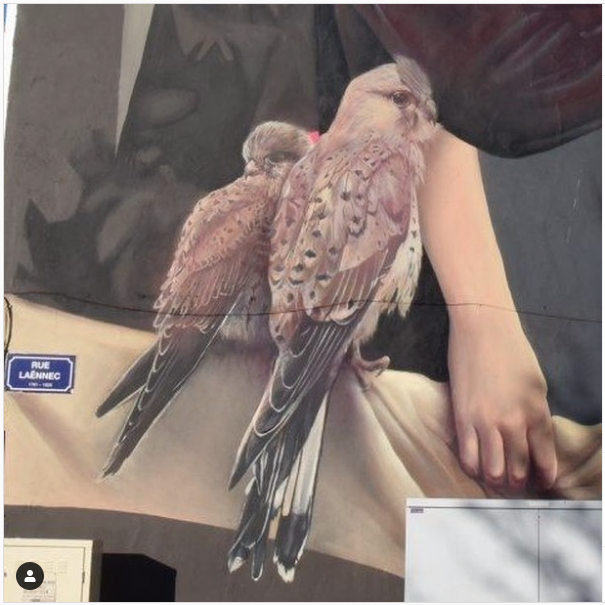 The artists
Telmo Pieper and Miel Krutzmann are two Dutch street artists who form a duo known as Telmo Miel. The two artists met during their studies in 2007 in Rotterdam, but it was only in 2012 that they founded their company "TelmoMiel". Together today, they create hyper-realistic works in the form of life-size murals and facades on walls around the world. By assembling their styles and skills, the duo superimposes realistic representations for a rendering as dreamlike as surreal.
Miel Krutzmann explains that the idea behind their creations "is to offer a certain look at the relationship between man and nature"
For this fresco, integrating the project "Les Murs d'Audubon", the artists wanted to stage the kestrel accompanied by a female figure: "Here, we discover a standing person who crosses his arms in a waiting posture. a little closed. At the same time, she is holding a stick on which are placed two protected birds, kestrels. These two postures symbolize the different approach that man can show towards nature, his respect and his will to protect it. "
"Often, when people discover a work, they are obsessed with the eyes," continues Miel. "He looks for who the character looks like and forgets the rest. But, we don't care. This person is universal. She could be anyone. This work is a comprehensive approach on an important theme: respect for nature and protection of the environment. "
This work, both graphic and philosophical, can be discovered at 84 rue du Chemin Vert, Boulogne-sur-Mer, France.
© Photographie Telmo Miel