Sur le sentier des lauzes
The path of lauzes
Inauguration de l'oeuvre de Jan Kopp dans la Vallée de la Drobie
Inauguration of Jan Kopp's work in the Drobie Valley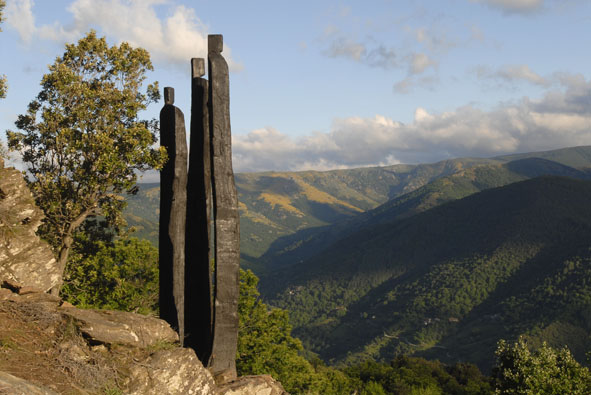 En raison du contexte actuel lié à la pandémie de COVID-19,  l'association Sur le sentier des lauzes suspend le chantier de création avec Jan Kopp, ainsi que les rendez-vous à venir, jusqu'à nouvel ordre. Les dates de reprise des activités de l'association seront annoncées très prochainement.  
Au cœur du Parc Naturel Régional des Monts d'Ardèche, l'association Sur le sentier des lauzes poursuit depuis une quinzaine d'années un travail autour des problématiques de paysage et de développement au travers de démarches culturelles. Par l'organisation, le plus souvent en plein-air, d'événements musicaux (San Sévérino, Les Yeux Noirs, Astilleros, …), de débats (Gilles Clément, Dominique Baffier, Francis Hallé…), d'expositions ou de randonnées artistique, et par l'accueil d'artistes en résidence à l'Atelier-refuge, l'association cherche à sensibiliser les habitants et le public à l'extraordinaire qualité paysagère et à la biodiversité des vallées de la Beaume et de la Drobie. Le Sentier des lauzes, support à ces actions, est aujourd'hui devenu un lieu de randonnée et de découverte parcouru par plusieurs milliers de visiteurs chaque année.
Depuis deux ans maintenant, l'association a choisi d'inviter un artiste de dimension internationale, Jan Kopp, à s'immerger dans les paysages de la Vallée de la Drobie pour imaginer une nouvelle œuvre pérenne du Sentier des lauzes sur son versant Sueille, qui en est aujourd'hui largement dépourvu.
Image à la une : © Le Silence des Lauzes, Christian Lapie
Image 1 : Transcription musicale de la structure des arbres, Giuseppe Penone, 2012
Image 2 : Ivo Provoost & Simona Denicolai L'armoire / Tableau de clés au café Au bon port St-Melany © Pierre-Olivier Arnaud
At the heart of the Monts d'Ardèche Regional Nature Park, the association Sur le Sentier des lauzes has been working for the past fifteen years around landscape and development issues through cultural approaches. By organizing, most often outdoors, musical events (San Sévérino, Les Yeux Noirs, Astilleros,…), debates (Gilles Clément, Dominique Baffier, Francis Hallé…), exhibitions or hikes artistic, and by hosting artists in residence at the Atelier-refuge, the association seeks to educate residents and the public about the extraordinary landscape quality and biodiversity of the Beaume and Drobie valleys. The Slate Trail, a support for these actions, has now become a place for hiking and discovery, visited by several thousand visitors each year.

For two years now, the association has chosen to invite an artist of international dimension, Jan Kopp, to immerse themselves in the landscapes of the Drobie Valley to imagine a new perennial work of the Sentier des lauzes on its Souverte side, which today is largely devoid of it.

The inauguration of the work is scheduled for Sunday, July 26, 2020, 6 p.m., as part of a day of artistic journey.
MOTS-CLÉS
paysage parcours artistique culture nature Arts visuels