Vassivière Utopia
Vassivière Utopia
Inauguration d'un parcours architectural et paysager hors-les-rives
Opening of an off track architectural and landscape trail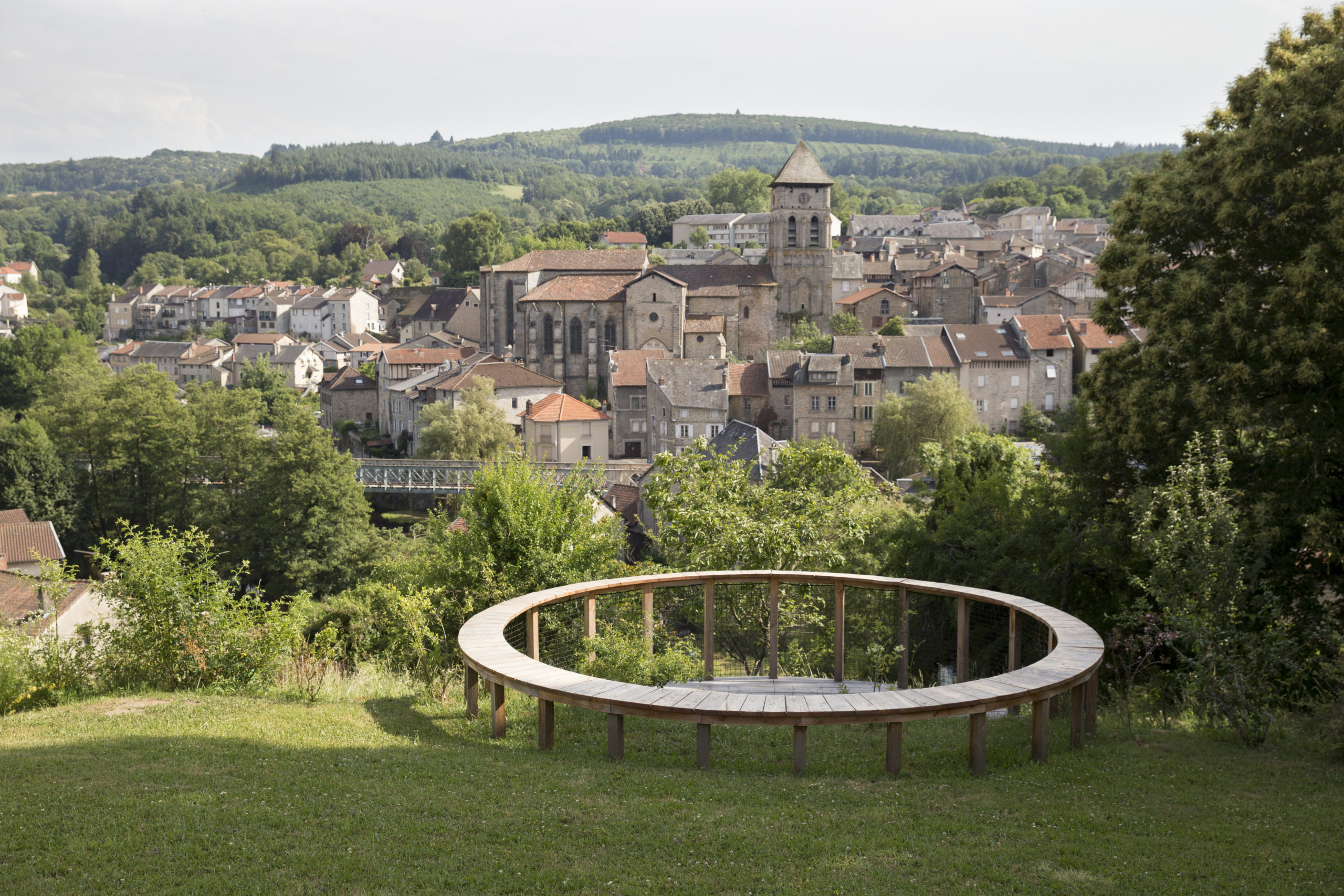 En raison du contexte actuel, l'inauguration des trois nouvelles créations 2020 sur le parcours Vassivière Utopia a été reportée. Le Centre international d'art et du paysage sera en mesure d'accueillir les 3 équipes retenues cette année en résidence sur l'île à partir de mai-juin ; elles travailleront donc à la préparation de leur projet jusqu'en octobre ; l'inauguration de ces trois nouvelles créations 2020 sur le parcours aura lieu à l'occasion des Journées nationales de l'architecture, le samedi 17 octobre.
Depuis quelques années, le Centre international d'art et du paysage sort de l'île de Vassivière pour tenter d'insuffler de nouvelles expérimentations et des approches sensibles pour proposer avec les habitant.e.s un regard autre sur le paysage et chercher les moyens d'articuler art et société. Après une série d'interventions d'artistes (5 artistes, 5 communes en 2014 et 3 artistes, 3 communes en 2016) et l'exposition-parcours Transhumance dans six communes en 2017, le Centre d'art a initié en 2018 Vassivière Utopia, un programme de commandes paysagères et architecturales in situ pour l'espace public rural. Conçu comme une extension « hors les rives » du Bois de sculptures, le parcours s'enrichit chaque année de trois créations dans trois nouvelles communes jusqu'en 2020.
Pour ce faire, le Centre d'art s'appuie sur le désir de certaines collectivités locales d'expérimenter de nouvelles formes d'aménagement dans un territoire intimement lié aux utopies sociales. Il s'inscrit aussi dans le prolongement de formes radicales en architecture et d'interventions paysagères audacieuses qui marquent l'histoire du Centre d'art.
Suite à un appel à projets en direction d'architectes et de paysagistes, les équipes Atelier 1:1, Atelier Bivouac et éjo.coopérative ont travaillé en résidence durant l'été 2018 sur l'île de Vassivière à la création d'interventions contextualisées. Dans le même cadre, les équipes du Bureau baroque, les espaces verts et de GAMA+BIANCHIMAJER ont conçu trois nouvelles créations lors de leur résidence sur l'île durant le printemps 2019. Au printemps prochain, trois nouvelles équipes seront accueillies en résidence pour la réalisation de trois nouvelles créations, visibles dans le Pays de Vassivière à partir de l'été 2020.
Avec le soutien du mécénat de la Caisse des Dépôts.
Image à la une : © Atelier 1.1 
For several years the international centre for art and landscape has looked beyond the island to try and breathe life into new explorations and new appropriate initiatives in order to provide, along with the inhabitants, a fresh viewpoint on the landscape and to find ways to portray art and society. After a series of artistic interventions ('5 artists, 5 villages' in 2014, '3 artists, 3 villages' in 2016) and the exhibition-trail 'Transhumance' in six villages in 2017, in 2018 the art centre initiated 'Vassivière Utopia', a programme of landscape and architectural commissions in situ in the public rural space. Designed as an off-track extension of the sculpture park, the trail expands each year with three creations in three new villages until 2020.

To this end the art centre draws on some local authorities desire to experiment new forms of urban and land development in a territory closely tied to social utopias. It also forms an extension of architecture radical forms and ambitious landscape interventions which made its history.

During the summer of 2018, after a call for projects among architects and landscape designers, the teams Atelier 1:1, Atelier Bivouac and éjo.coopérative produced contextual interventions in creative residency on Vassivière island. In the same context the teams Bureau baroque, les espaces verts et Gama+Bianchimajer designed 3 other interventions in residency during the spring of 2019. Next spring, the art centre will welcome three new teams in residency to realize three new creations, which would be available to the public from the summer of 2020.

With the sponsorship support of the Caisse des Dépôts.