Promenade « Les chemins de l'eau » par Paul-Hervé Lavessière
"Waterways" walk by Paul-Hervé Lavessière
Reconnecter la nature et les projets urbains dans le contexte du changement climatique
Reconnecting nature and urban projects in the context of climate change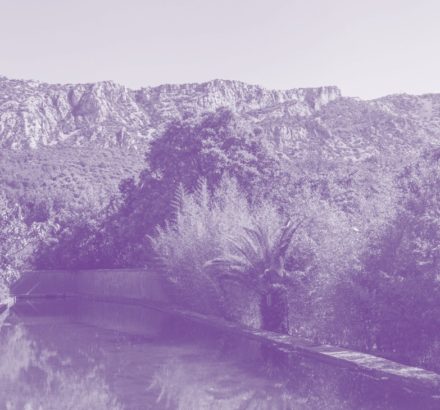 Cette promenade s'inscrit dans un programme de 5 ans du projet européen Nature 4 City Life (2017-2022) qui veut favoriser une meilleure intégration de la nature dans le projet urbain dans un contexte de changement climatique.
En transposant la pratique de la grande randonnée dans nos territoires métropolitains, les actions émergeant du projet Nature 4 City Life informent les divers acteurs de la ville (habitants, aménageurs urbains, élus, étudiants…) sur le rôle des infrastructures vertes et bleues urbaines face aux changements climatiques. Une approche narrative et basée sur l'exploration sensible est privilégiée, favorisant une appropriation active des enjeux et une implication des participants à travers balades, ateliers thématiques, bivouacs, outils éditoriaux et d'observation ou encore conception d'un nouveau sentier dans la métropole Toulon Provence Méditerranée.
Sur le GR2013, des marches mensuelles seront ainsi proposées par Nicolas Mémain et le collectif SAFI, et dans la métropole toulonnaise, par Paul-Hervé Lavessière, en vue de la construction d'un Sentier Métropolitain du Grand Toulon.
Pendant 5 ans, ces trois guides élaborent une petite université populaire d'écologie métropolitaine – une « mission de service public pour penser, marcher, transmettre ».
Le projet Nature 4 City Life est un projet coordonné par la Région Provence-Alpes-Côte d'Azur, avec la ville de Marseille, la métropole Aix-Marseille Provence, la métropole Toulon Provence Méditerranée, la métropole Nice Côte d'Azur, Air Paca, le Laboratoire Ecologie Population Développement (université AMU), le Bureau des guides du GR2013.
© Bureau des Guides GR2013
This walk is part of a 5-year program of the European Nature 4 City Life project (2017-2022) which aims to promote better integration of nature in the urban project in a context of climate change.

By transposing the practice of long-distance hiking in our metropolitan territories, the actions emerging from the Nature for city Life project inform the various stakeholders in the city (inhabitants, urban developers, elected officials, students, etc.) about the role of green and blue urban infrastructures facing to climate change. A narrative approach based on sensitive exploration is favored, favoring an active appropriation of the issues and the involvement of the participants through walks, thematic workshops, bivouacs, editorial and observation tools or even the design of a new path in the metropolis. Toulon Provence Mediterranean.
MOTS-CLÉS
Promenade Nature Bureau des guides