NATURE IN SOLIDUM
NATURE IN SOLIDUM
1 April 2019
-
31 December 2020
DÉMARCHE DE VALORISATION ARTISTIQUE DU PARC NATUREL RÉGIONAL DU HAUT-JURA : TROIS RÉSIDENCES ET UNE ŒUVRE DANS L'ESPACE PUBLIC
ARTISTIC DEVELOPMENT APPROACH OF THE HAUT-JURA REGIONAL NATURAL PARK : THREE RESIDENCES AND ONE WORK IN THE PUBLIC SPACE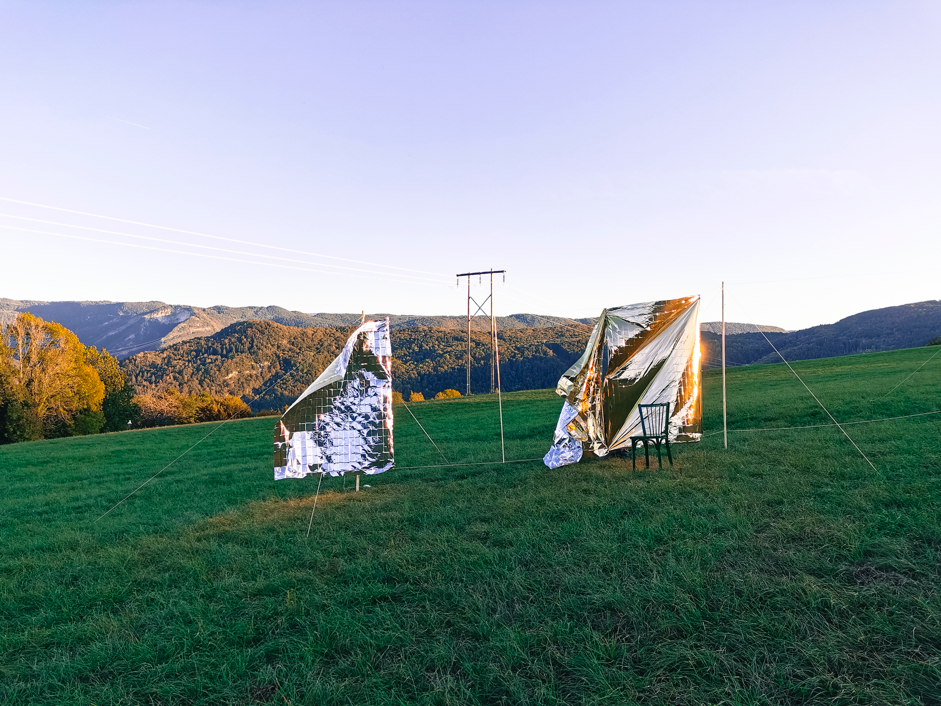 Depuis 2019, les artistes Baptiste Carluy, Romain Barthélémy, Mathieu Ghezzi, Odysseas Yiannikouris et Alessandra Monarcha sont accueillis en résidence dans les communes de Jeurre, La Pesse et Avignon-les-Saint-Claude. Ils ont été sélectionnés pour se confronter, durant un an à des enjeux cruciaux du territoire tel que : la pollution de la Bienne, la gestion forestière et la transition énergétique. Une œuvre d'art dans l'espace public sera par la suite réalisée dans la ville de MOREZ.
Solidairement et en commun, In solidum est le principe de responsabilité réciproque qui prévaut dans la gestion du collectif, si typique du Haut-Jura, où est né le système coopératif des fruitières. Une mutualisation des bienfaits de la nature comme de ses aléas, qui nous renvoie à notre responsabilité collective vis à vis d'elle, nous rappelle l'interdépendance indéfectible des hommes et de leurs milieux naturels, et la nécessité d'agir ensemble aujourd'hui pour les protéger.
Accompagné par COAL acteur culturel référent de la rencontre de l'art et de l'écologie, le Parc naturel régional du Haut-Jura a lancé Nature in solidum, une démarche de valorisation artistique de son territoire. Par le biais de résidences et de commandes artistiques, le Parc et ses communes entendent aborder autrement les grands enjeux écologiques auxquels le Haut-Jura doit faire face, tels que la protection de la biodiversité, l'érosion des milieux naturels sensibles, la qualité de la ressource en eau, les impacts des changements climatiques, la mise en œuvre d'énergies renouvelables, la gestion forestière durable, ou encore les économies locales et circulaires, et les modes de vies collaboratifs et citoyens.
Cette démarche artistique engage à prendre conscience différemment des changements que subissent les territoires pour mieux agir sur leurs transformations, et contribuer à une meilleure conciliation des usages au sein des milieux naturels. Ce programme valorise aussi bien la grandeur de la nature que la force du collectif et se conçoit comme une démarche participative fédérant artistes, collectivités, entreprises et acteurs locaux. Il participe à la vie sociale et économique locale et pourra notamment s'appuyer sur les ressources, les matériaux et les savoir-faire du Haut-Jura, renforçant par là même, la conscience écologique des usagers et résidents du territoire tout en proposant des expérimentations voire des solutions nouvelles.
Ce programme se veut ouvert : il sera enrichi, année par année, par de nouveaux appels à projets artistiques dans des communes différentes du Parc naturel régional du Haut-Jura.
Ce programme est conçu avec le soutien financier des communes concernées, la Région Bourgogne-Franche-Comté et du programme Leader Haut-Jura. Elles bénéficient du conseil et du suivi artistique de la DRAC Bourgogne-Franche-Comté et de COAL.
Images : © Odysseas Yiannikouris et Alessandra Monarcha
In solidarity and in common, In solidum is the principle of reciprocal responsibility that prevails in the management of the collective, so typical of Haut-Jura, where the cooperative system of fruit plantations was born. A pooling of the benefits of nature as well as its hazards, which refers us to our collective responsibility towards it, reminds us of the unwavering interdependence of men and their natural environments, and the need to act together today To protect them.

Accompanied by COAL, a key cultural player in the meeting of art and ecology, the Haut-Jura Regional Natural Park is launching Nature in solidum, an approach to enhance the artistic value of its territory. Through residencies and artistic commissions, the Park and its municipalities intend to approach the major ecological challenges facing Haut-Jura in a different way, such as the protection of biodiversity, the erosion of sensitive natural environments, the quality of water resources, the impacts of climate change, the implementation of renewable energies, sustainable forest management, or even local and circular economies, and collaborative and citizen lifestyles.

This artistic approach commits to being aware differently of the changes which the territories undergo to better act on their transformations, and to contribute to a better reconciliation of the uses within natural environments. This program values ​​the greatness of nature as well as the strength of the collective and is conceived as a participative approach bringing together artists, communities, businesses and local actors. It participates in local social and economic life and can in particular rely on the resources, materials and know-how of Haut-Jura, thereby strengthening the ecological awareness of users and residents of the territory while offering experiments even new solutions.

This program is intended to be open: it will be enriched, year by year, by new calls for artistic projects in different municipalities of the Haut-Jura Regional Natural Park.

In 2019, three artists are welcomed in residence in the municipalities of Jeurre, La Pesse and Avignon-les-Saint-Claude. A work of art in public space will be produced in the city of MOREZ.

This program is designed with the financial support of the municipalities concerned, the Bourgogne-Franche-Comté region and the Haut-Jura Leader program. They benefit from the advice and artistic support of the DRAC Bourgogne-Franche-Comté and COAL.
MOTS-CLÉS
nature in solidum Parc Naturel régional du Haut-Jura Démarche de valorisation Résidences artistiques