CAAPP, Cluster Art Architecture Paysage Patrimoine de Bellastock
CAAPP, Cluster Art Architecture Landscape Heritage of Bellastock
16 July 2020
-
19 July 2020
Cité Vivant - Expérimentation en architecture avec le Vivant
Cité Vivant - Experimentation in architecture with The Living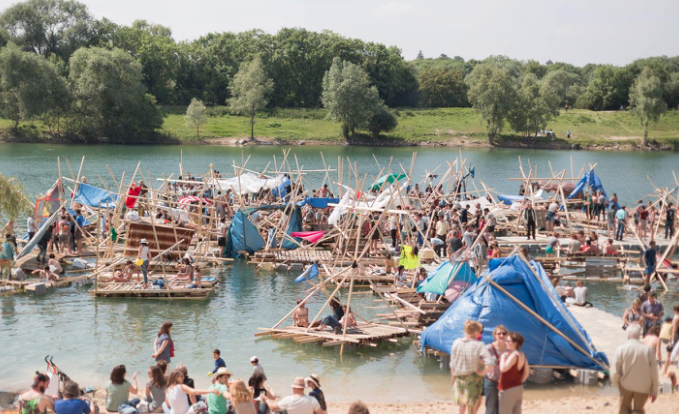 Dans le cadre du contexte actuel lié à la pandémie de COVID-19, Bellastock n'a pas encore communiqué sur le maintien ou le report du festival organisé dans le cadre du CAAPP, initialement prévu au mois de juillet. Ces dates seront annoncées très prochainement. 
Dans le cadre de la création d'un lieu pédagogique d'expérimentation à l'échelle un (le CAAPP), Bellastock dédie les trois prochains festivals qu'il organise chaque année depuis 2006 à la préfiguration de ce lieu. L'année 2020 traite de l'implantation du CAAPP, avec comme entrée le vivant, dans toutes ses composantes matérielles, naturelles, immatérielles.
Le CAAPP, Cluster Art Architecture Paysage Patrimoine, offre un site inédit en Ile de France, d'ateliers d'expérimentation à échelle 1 et de création inter-écoles. Partages, échanges et retours d'expériences sont le leitmotiv de ce lieu dédié à la production et à la diffusion des cultures constructives propres à l'architecture, étendant l'élan pédagogique des Grands Ateliers de l'Isle d'Abeau au territoire francilien, en l'alimentant des portées artistiques, paysagères et patrimoniales indissociables de l'architecture. Il permet aux écoles d'architecture, d'art, de design et de paysage franciliennes, ainsi qu'aux écoles et universités du Grand Paris partenaires, de partager un lieu commun au sein duquel échanger des idées et concevoir des projets liés à la transition écologique, à l'essor du numérique et à l'expérience par le faire.
Dès 2020, pour préfigurer les activités du CAAPP, le Festival Bellastock se tiendra dans le parc de la Maison Sainte-Geneviève.
Plus d'information à retrouver sur le site du CAAPP. 
Images : © Bellastock
Within the framework of the creation of an educational place of experimentation on a scale (the CAAPP), Bellastock dedicates the next three festivals which it organizes each year since 2006 to the foreshadowing of this place. The year 2020 deals with the establishment of the CAAPP, with life as its entry, in all its material, natural and intangible components.

The CAAPP, Cluster Art Architecture Paysage Patrimoine, offers a unique site in Ile de France, experimentation workshops on a scale 1 and inter-school creation. Sharing, exchanges and feedback are the leitmotif of this place dedicated to the production and dissemination of constructive cultures specific to architecture, extending the educational momentum of the Grands Ateliers de l'Isle d'Abeau to Ile-de-France, by nourishing it with artistic, landscape and heritage implications inseparable from architecture. It allows schools of architecture, art, design and landscape in the Paris region, as well as partner schools and universities of Greater Paris, to share a common place in which to exchange ideas and conceive projects related to the transition ecological, the digital boom and the experience of doing it.

From 2020, to foreshadow the activities of the CAAPP, the Bellastock festival will be held in the park of Maison Sainte-Geneviève.
MOTS-CLÉS
Festival Cité vivant architecture